It feels good to be King. And one of our design goals with Season 2 in WWE SuperCard was to make it feel even ... good-er by injecting more strategy and complexity into the experience. So, we'd like to introduce you to Season 2's KOTR, a crucial part of the S2 experience that'll reward you with cards and task you with making strategic decisions.
Like with S1's King of the Ring, S2'S KOTR is a multi-day 16-man mode that pits you against other players for cards. As games are played, the cards in your KOTR deck will lose energy over time. You can refill your cards' energy with Energy cards, which can be picked off the draft board. You can also "boost" your cards to get an edge (and break some hearts). If you place high enough, you'll win cards.
In Season 2's King of the Ring, we're flipping the script on line-ups. Your entire 10-person King of the Ring team will be active during the run of the mode, meaning that any Superstar, Legend, or Diva in your deck could be called up in an event to battle. Balancing your deck will be crucial to taking the crown; you'll want all your best cards in your line-up and customized in ways that compliment each other. Have a bunch of POW guys in your line-up? Consider throwing some SPD into the mix, either by collecting a speedster or customizing cards to make them faster.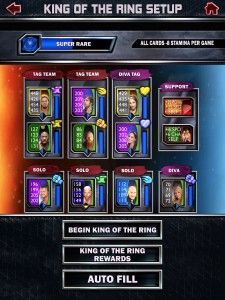 We've also re-mixed Boosts to better align with S2's new Enhancement system. In S2's KOTR, you'll be able to slot the same enhancements you can apply to your cards as an enhancement in KOTR. Doing this will give you a big advantage over your opponent if your enhanced card is called into an event that matches the enhancement. For instance, if you slot a POW enhancement in a card and it competes in a POW match-up, that card's POW will be increased for that match. So, in addition to balancing your deck, you'll want to make sure you're strategically slotting in Enhancements.
S2's KOTR also introduces a couple of other interesting additions into S2:
You can store up to 25 Energy cards in your deck.
Wins in Exhibition matches automatically grant you an Energy Card in addition to Energies you can pull from the board.
All Enhancements can be pulled from the board, but only Rare+ reset it.
A new Divas Tag Match slot has been added into the Active Line-up.
We think these new features, coupled with the diversity of S2 cards, makes S2's KOTR a real contender.