If you want to be a true WWE Superstar, you'll need to be the King of the Ring! This game mode has been a beloved part of WWE SuperCard for quite some time, so when it came to refining it, we wanted to not only keep the original design intact but also make sure players recognized the new and improved experience.
Our first goal with this refinement was to greatly shorten the amount of time it would take to start and complete an entire King of the Ring. We've now halved the completion time to just over one day versus taking multiple days. This will enable players to get in and out much faster and have a better experience while dominating their competition. We also increased the player pool to 32, giving players the ability to beat up on even more opponents.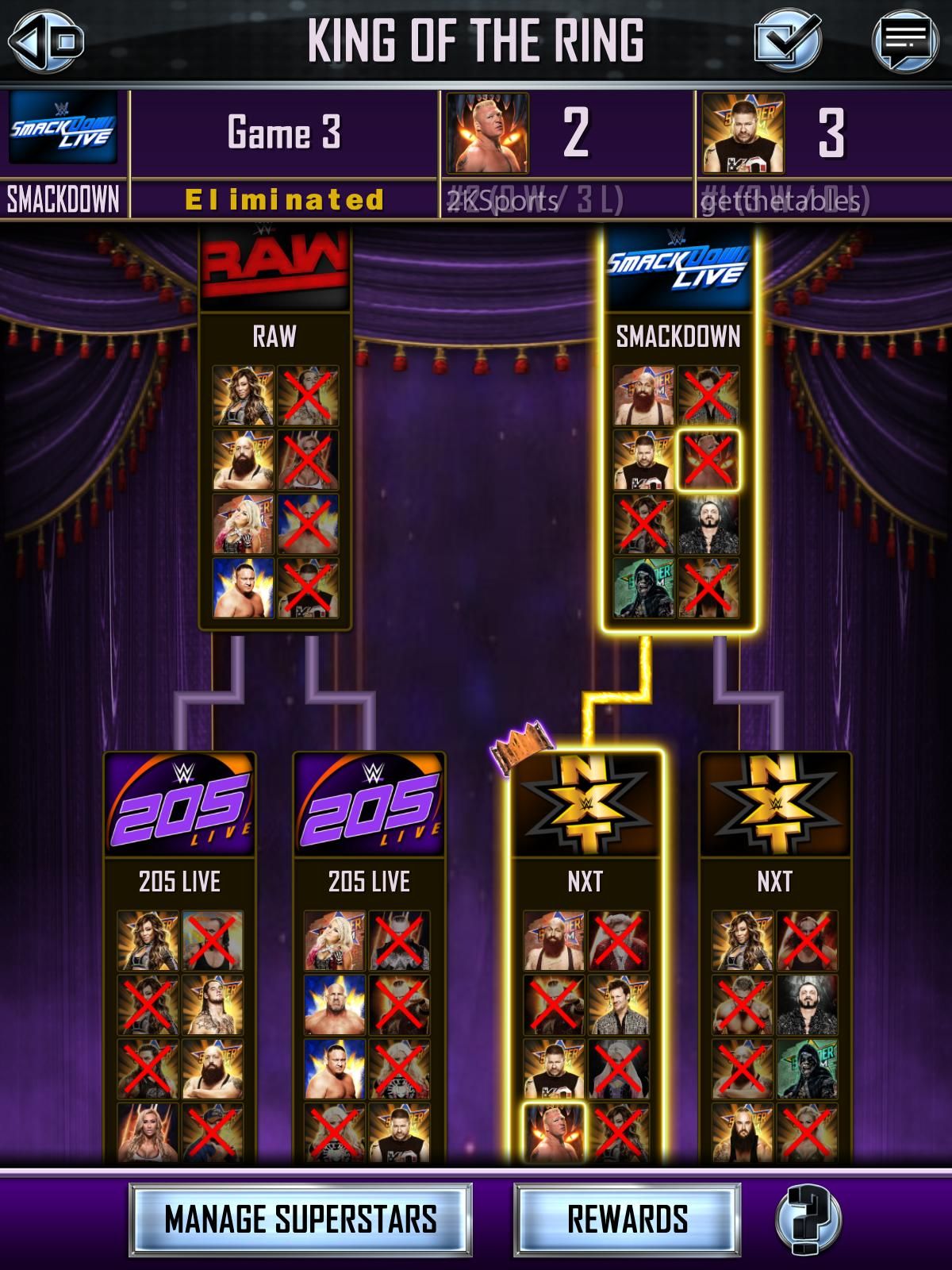 King of the Ring is still a mode where players manage their Superstar Stamina via Energy cards earned from smashing other players in different modes. As mentioned earlier, it now features 32 players with two single elimination qualifier rounds. There will be four groups of eight, with each pair of opponents playing to best of five games, and each game consisting of five matches. The winner moves on, and the loser gets their rewards for playing.
After the first qualifier, a second qualifier is played in the same format, with eight players moving on to the final bracket. That final bracket will continue until the King of the Ring champion is crowned. With this new format, the most games a player can possibly play is 25, which is down significantly from the potential of 54 in Season 3. The goal is to get more people playing more King of the Ring events and completing them faster.
A player's King of the Ring deck will still consist of twelve cards, two male tag teams, three male Superstar cards, one female tag team, one female Superstar card and two Support cards. The tier of your deck will determine which players are in your King of the Ring and the rewards you can earn along the way. And don't worry, those rewards will be pretty sweet – trust us.
With faster rounds, fewer games and better rewards, King of the Ring 2.0 is an exciting step forward in the evolution of WWE SuperCard.