Here comes the BOOM! WWE 2K is back and bringing the biggest Superstars, signature moves, and theatrics the game has ever seen in WWE 2K22. Set to make its grand entrance in March 2022, WWE 2K22 boasts stunning graphics, a redesigned gameplay engine, and the return of some fan-favorite game modes! 2K and Visual Concepts recently unveiled the Hit List for WWE 2K22, revealing the most anticipated innovations you can look forward to in the latest edition of the WWE 2K franchise.
WWE 2K22 is about looking and feeling like a true WWE superstar. From experiencing the roar of the crowd to delivering a punishing powerbomb, the fully redesigned gameplay engine brings all aspects of WWE action to life. When you step into the ring, the gameplay will seriously hit different, with every dive, kick out, and finishing move feeling as if it's happening right in your living room. 
In addition to the revamped gameplay engine, new controls have been implemented to ensure a seamless and intuitive experience for any skill level, while still allowing for highly skilled players to showcase unique moves. The redesigned gameplay engine is responsive and configured to give you limitless combos, counters, and finishing moves right at your fingertips. 
To complement the tight controls, WWE 2K22 gets in your face with lifelike graphics that make you feel like you've got a ringside seat. WWE 2K22 is sure to blow you away with its stunning visuals and state-of-the-art lighting, making you shine bigger and brighter in front of thousands of adoring fans. Whether you're competing in WrestleMania, SummerSlam, or the Royal Rumble, WWE 2K22 will feel like a title match every time you walk down the ramp.
When the game releases in March, you'll be able to experience the new controls, gameplay, and graphics for yourself, plus new and returning game modes, like MyGM, MyFACTION, MyRISE, Universe Mode, and Creation Suite.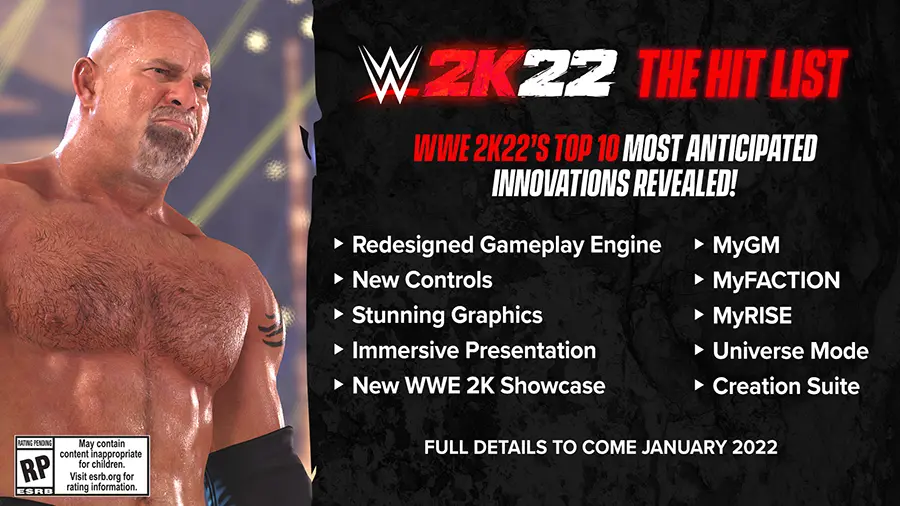 MyGM
MyGM is making its debut in the WWE 2K franchise. Take the reins as a WWE General Manager and draft your very own roster of WWE Superstars, managing contracts and booking matches of all varieties to prove that you've got what it takes to build and run the best show in sports entertainment.
MyFACTION
Also making its WWE 2K debut, introducing—drum roll, please—the new, the intimidating, the unstoppable, whatever you decide to make it, MyFACTION. This all-new game mode allows players to get creative by building and taking control of a faction of their own. D-Generation X, New World Order, and The Corporation are just a few of the iconic factions assembled through the years, and now it's your turn to create the next legendary team. Collect, manage, and upgrade WWE Superstars and make your faction the greatest partnership in WWE history.
MyRISE
Every WWE Superstar has to start somewhere and climb the ranks before commanding the spotlight, and that's exactly what you'll do in MyRISE. Start from the bottom as a wide-eyed Rookie eager to make an impact in the ring and make the right connections behind-the-scenes. String together wins to earn more notoriety and claim your place in history as a WWE Superstar, becoming the main attraction. Live out your dreams as a hero in the eyes of fans all over the world, or play the role of a villain thwarting the plans of anyone foolish enough to stand in your way. All-new storylines are available for both male and female MyPLAYERS looking to rise from Rookie to Legend.
UNIVERSE MODE & CREATION SUITE
There's a lot that goes on within the WWE Universe, and you can take full control of the action in Universe Mode, returning in WWE 2K22. Run the WWE however you want by pitting wrestlers against one another to form rivalries, decide PPV matches, and control brands more than ever before. Let loose in Universe Mode or in the Creation Suite, where you can unleash your creativity by designing an all-new identity that you can then showcase in the ring. Both modes offer free rein and allow you to experiment with new ideas.
WWE 2K22 hits different, and we can't wait for you to experience it when it hits shelves in March next year. This is just a taste of what you can expect, but stay tuned for more as additional details will be provided in January 2022. Until then, check out more videos and news on our YouTube page, WWE 2K, and sign up for our newsletter!