Over the decades, factions have been a big part of wrestling history, whether it's the nWo, D-Generation X, or even modern-day groups like The Bloodline, Judgment Day, and Damage CTRL. This is a major aspect of WWE lore and there are no signs of this powerful concept changing in the future.
In WWE 2K23, players have the ability to form their own groups in MyFACTION—where fans can collect and upgrade cards of their favorite WWE Superstars and Legends. The objective is to build your own factions from the various men and women in the game, and participate in daily and weekly challenges while also competing online to earn rewards and more.
Take Your Faction Online
One of the biggest changes and additions to MyFACTION is the all-new online head-to-head Quick Play mode. Last year, MyFACTION was strictly an offline experience. The natural evolution of the mode was to take the action online to compete against others—because who doesn't want to show off their star-studded faction? Through Online Quickplay, you can put your skills to the test with the best cards in your collection and prove your faction is a force to be reckoned with. Challenge friends and other WWE 2K community members for endless hours of fun!
Introducing Live Events
The WWE gives fans plenty of shows and events to look forward to year round, and we're eager to deliver the same kind of excitement in WWE 2K23. This year, we've added scheduled Live Events for players to participate in, with regular post-launch content to play through. Live Events is a single-player experience that offers a variety of match types and challenges where you can earn new rewards. You'll have the opportunity to play unique matchups curated by WWE 2K designers to unlock more content and diversify your experience.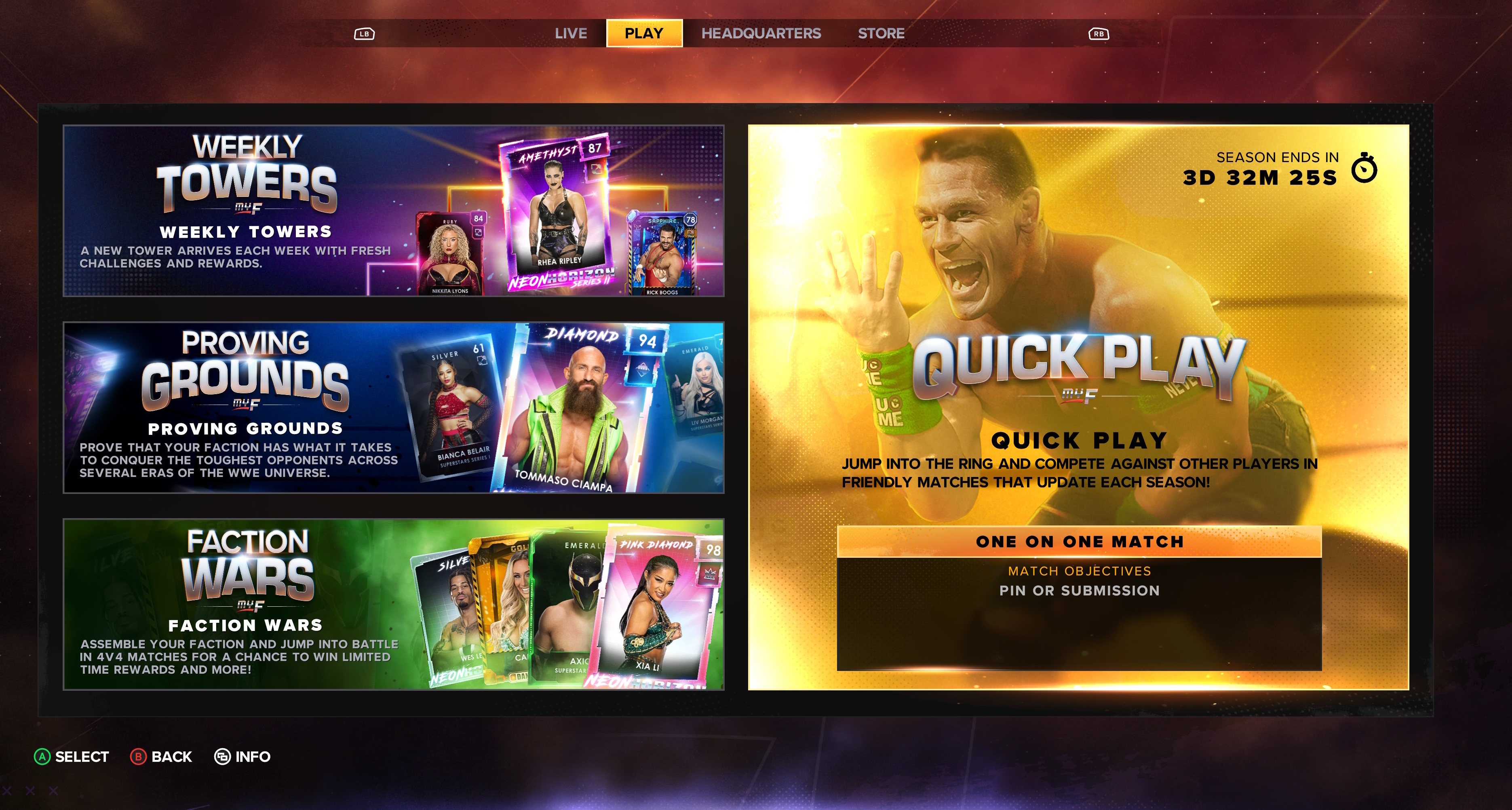 Evolution of MyFACTION Cards
The WWE 2K art team was in their bag this year, creating diverse and aesthetically enhanced cards for you to enjoy. You'll notice crisp images with highly detailed backgrounds for some added flare and design boosts that make your favorite Superstars pop. Cards also have details on the back with added info about how and when that card was added to your collection. When it comes to building out your lineup, making tough decisions just got simpler with the Fighting Styles featured on the front of the card. Lastly, we're introducing the Pink Diamond tier—expect it some time post-launch—which opens the door to more high-powered Superstars and faction combinations.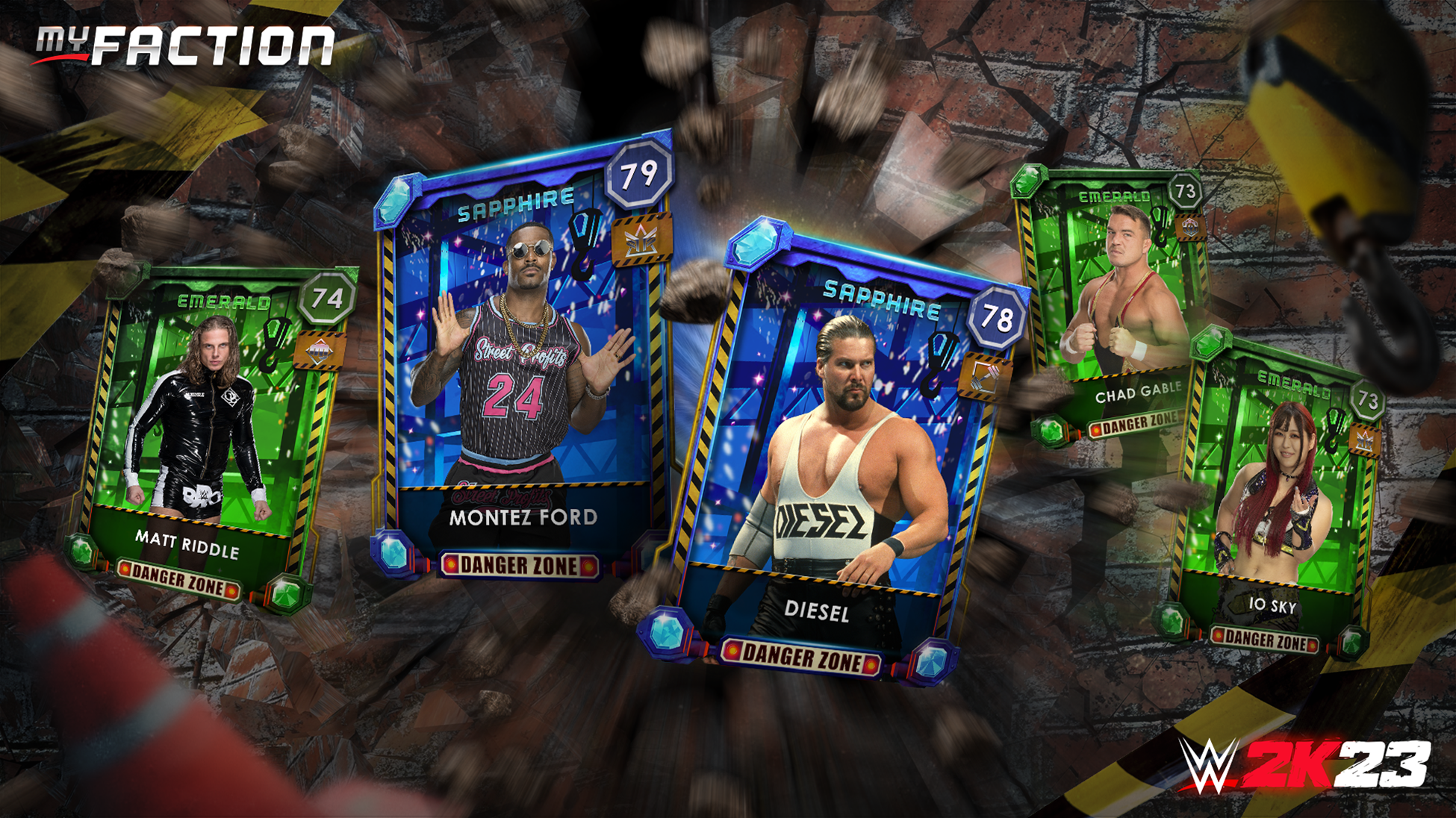 Unique Character Models & Attires
WWE fans have seen some of their favorite Superstars transition and evolve. From their attire to their overall look, it's not unusual for even the biggest names in sports entertainment to experience a rebrand. In MyFACTION, players will find some of the most coveted historic and current looks for Superstars and Legends. Many of these looks are exclusively available in MyFACTION, making it just a little more special. Think you can collect every iteration of your favorite Superstars? I guess we'll find out!
So Much More To come
With the release of WWE 2K23 only a few short weeks away, we can't wait for you to check out all of the cool content that we have up our sleeves.
And speaking of cool content, we have a limited edition "Stone Cold" Steve Austin MyFACTION card, in collaboration with our friends at El Segundo.
Stay tuned for how you can add this unique card to your MyFACTION collection!