"WAAAARRRRGGGGAAMES!"
That's right, the highly-anticipated WarGames is finally here in WWE 2K23!
Originally created by WWE Hall of Famer Dusty Rhodes in 1987, WarGames re-debuted with a new look at NXT TakeOver: WarGames in 2017 before making its way to the WWE main roster with Survivor Series: WarGames in 2022.
In WWE 2K23, players can finally step into the double-ring, double-steel cage match for the first time in a video game, competing in either 3v3 or 4v4 multiplayer.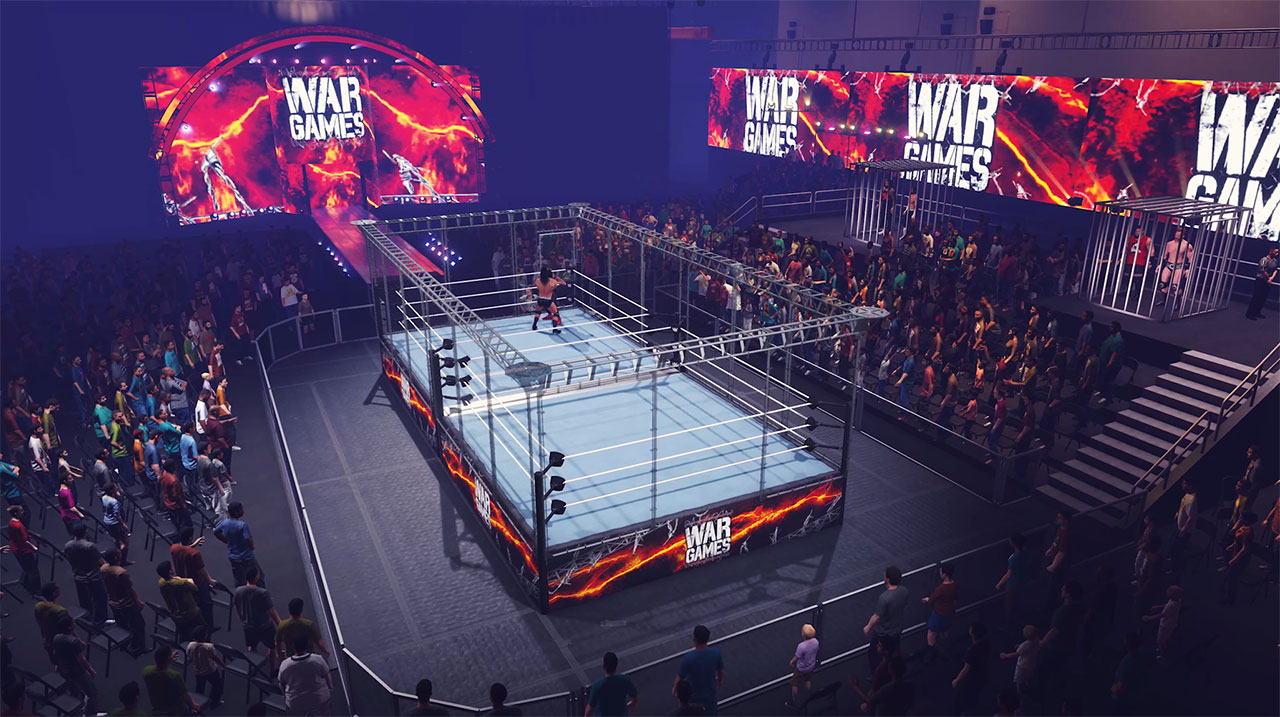 BRINGING WARGAMES TO THE WWE 2K FRANCHISE
Internally, we've known that we wanted to feature this match type for a long time. While developing WWE 2K22, we were able to make some under-the-hood changes that would allow us to make this a reality for WWE 2K23. We knew this would require a team-wide effort, which would challenge us in almost every aspect of the game, from objects to the arenas, entrances, cage combat, dives, springboards, AI, and so much more.
As soon as we could play it, we immediately saw how much fun our players are going to have given all of the different situations that WarGames introduces such as Superstars entering the ring at intervals creating 2v1 or 3v2 situations. With cage combat, weapons, and the area between the two rings which we named "the trench", we knew this would be a totally new space for combat, so we had to go to the drawing board and think about what kind of interactions users would expect to have there.
We had so much fun bringing this mode to life and I know our players will feel our passion and have a great time playing it.
MATCH RULES
So how does the WarGames match work?
- We begin with two Superstars in the ring while team members are contained in separate cages
- At regular intervals, alternating members of each team will be released from their respective cages and enter the match
- Once all team members have been released and have entered the match, WarGames will officially begin
- WarGames can be won by pinfall or submission or throwing your opponent off the cage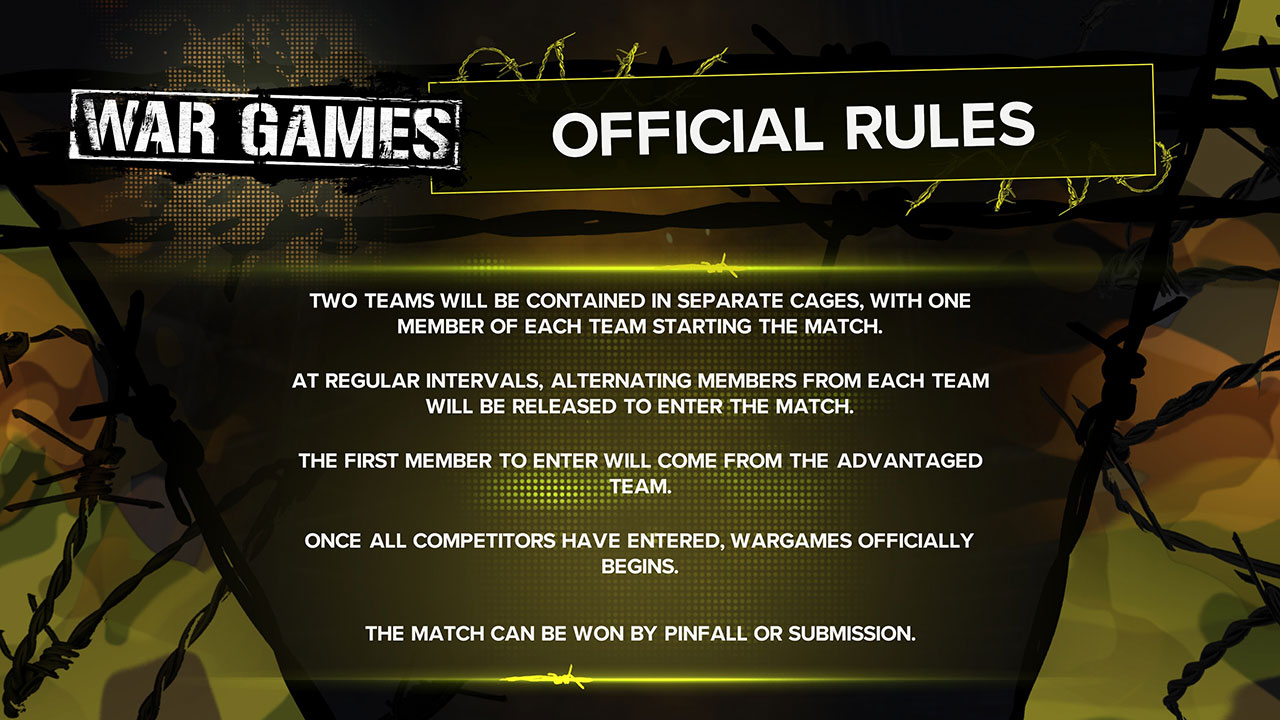 ARENAS
- NXT TakeOver: WarGames
- Survivor Series: WarGames
- MyRise-specific Arena
PLAYING SOLO OR MULTIPLAYER
With both 3v3 and 4v4 options, there is no shortage of mayhem, whether playing solo or with friends.
As part of the match setup, players also have the option to randomize the team advantage (which team gets the 2v1 advantage after the first new entrant) or to assign it to a specific side.
Players are also not limited to using WWE Superstars or Legends, as created wrestlers are allowed for both men's and women's matches. In addition, there is some customization allowed such as confining wins to only pinfalls or submissions, instead of both.
Entrance intervals can also be customized in 30-second increments. By default, Superstars enter the match every 90 seconds but can range from 30 seconds up to five minutes.
Once a match begins, players take control of the Superstar they chose. If that Superstar is waiting in a holding cage, they can either let the AI play until it's their turn to join the match or by pressing the View button on Xbox or the Touchpad on PlayStation controllers to quickly swap which Superstar on the team they are controlling without having to go into the Pause menu.
But what's a WarGames match without teaming up with friends or bringing the pain to them?
Fans can experience WarGames in local multiplayer with up to four players on Steam and PlayStation, and up to six on Xbox. Players can play on the same team or be split up into members of each team.
We're also happy to give players the ability to play WarGames in online multiplayer for up to eight players across the same platform family, so get ready to line up your dream team and dominate the WWE Universe globally!
GAMEPLAY
With two rings and a double-wide steel cage, there's plenty of carnage to be had during a WarGames match.
With no disqualifications, players can introduce objects into the match by digging around under the ring and pulling out tables, stop signs, kendo sticks, and more. And while each object provides an extra dose of danger, there's no greater danger than the cage itself.
Players can steadily make their way up the cage wall, eventually sitting atop the cage before getting to their feet. Once on their feet, it's a long way down, which is bad news for opponents on the receiving end of a massive splash!
With two rings to compete in, the action is frenzied and regularly takes place in both at the same time, including the space in between. This is a great spot to get in some additional offense while an opponent tries to escape to another ring or to reach into one of them to catch them off-guard.
WarGames' introduction to the WWE 2K franchise has been a long time coming, and we're eager for you to get in the ring and experience it for yourself! WarGames is just one of many exciting features you'll find in WWE 2K23, but we don't want to reveal everything just yet. Stay tuned for more Ringside Reports in the coming weeks for more information regarding your favorite Superstars and modes!
In case you haven't already, be sure to pre-order your copy of WWE 2K23!