MyGM
MyGM is back in WWE 2K23 with more updates and all-new features so you can create the best weekly show in sports entertainment. In MyGM you take on the role of General Manager, controlling everything from the schedule to the promos, arenas, production, and featured match cards throughout each event. Show off your business-savvy mind and use different strategies to orchestrate a show that fans will rave about. Compete against rival managers by boosting your ratings and prove you're the best by becoming the first GM to enter the Hall of Fame.
A BIGGER GM ROSTER
One of the biggest additions to MyGM in WWE 2K23 is the suite of five new GMs to choose from! Adam Pearce, Sonya Deville, Stephanie McMahon, and a Custom Superstar are all returning options from WWE 2K22, but Xavier Woods, Tyler Breeze, Kurt Angle, Eric Bischoff, and Mick Foley are joining the lineup to give you even more variety. Each GM has unique power cards that play to different strengths; Pearce, Deville, and McMahon had their power cards adjusted ever so slightly, but the fresh batch of GMs have all-new power cards for you to explore.
TWO NEW BRANDS
Not only will you have nine GMs to choose from, but there are also two new brands in the mix: NXT 2.0 and WCW. Decide whether you want RAW, SmackDown, NXT, NXT 2.0, or WCW to serve as the platform for your thrilling spectacle.
UPDATED SUPERSTAR ROSTER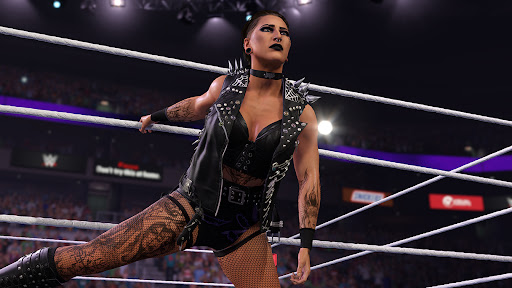 There's a lot that goes into making a world-class show, but a deep roster filled with complementary Superstars is arguably the biggest component. Fortunately, you can choose from a large list of Superstars, including 200 of your favorite Superstars from the past and present. You'll also choose from 40 all-new unique enhancement talent Superstars. When it comes to drafting your roster in WWE 2K23, there are endless combinations you can put together!
ALL-NEW MATCH RULES & SETTINGS
The list of match types and rules has grown, with more customization options to choose from than ever before. You can expect the traditional Singles and Tag matches, plus Triple Threat and Fatal 4 Way! There are 12 total match types to pick from, including seven new formats: Steel Cage, BackStage Brawl, Falls Count Anywhere, Submission, Iron Man, Last Man Standing, and Tornado Tag. Each of the new match types has bonuses attached to them, so be sure to make strategic decisions when booking matches. And with the updated settings, you can choose if you want the show to happen in a fixed order or alternate from show to show. There's more freedom to do what you want so you can deliver a one-of-a-kind product.
…AND EVEN MORE
Aside from becoming the best GM in the industry, there are plenty of other objectives to chase for special achievements and rewards. Measure your progress by completing Seasonal Challenges, which award new, highly valuable Hall of Fame trophies; collect enough of them and you'll find yourself in the WWE Hall of Fame. At the end of every season, Slammies will also be awarded as another way to celebrate all your accomplishments.
MyGM in WWE 2K23 is packed with enhanced settings and additional features that are sure to keep you busy all year long. Explore different strategies and find what works for you as one of the premier managers in the WWE—there's more than one way to be successful.