WWE 2K23: SHOWCASE MODE
John Cena is one of the most decorated WWE Superstars of all time, raising the WWE World Champion belt a record-tying 16 times during his 20-year career—but he's also suffered some devastating defeats at the hands of WWE Legends. In WWE 2K23's Showcase mode, Cena is determined to rewrite history and turn those agonizing losses into wins. Are you strong enough to defeat Cena? Take control of Cena's strongest rivals and recreate some of The Champ's career-defining matches on the biggest stages in sports entertainment.
Featuring 14 classic arenas, 11 of Cena's greatest foes, 14 historical matches, and over 30 minutes of cinematic footage, Showcase is a detailed, immersive retelling of Cena's legendary rise from raw talent to household name. Spoil Cena's WWE debut in 2002 as Kurt Angle, thwart Cena's title hopes as Brock Lesnar at Backlash, go toe-to-toe with Mr. HUSTLE, LOYALTY, and RESPECT as The Rock in front of a frenzied WrestleMania crowd, and more.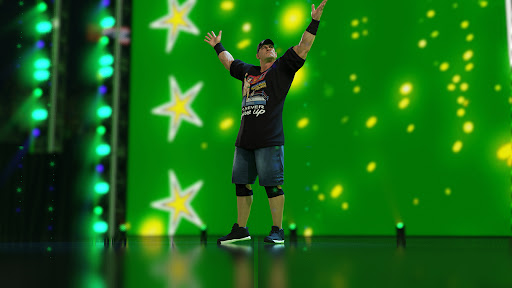 For 20 years, Cena never gave up, establishing himself as a WWE Legend by earning respect—are you capable of earning his? Turn back the clock and get ready to prove yourself with different tactics and movesets in what's sure to be an all-out slugfest. You can learn more about all the featured matches in Showcase by reading our comprehensive Ringside Report.